Color palettes in Haskell
Posted on April 16, 2018 by Stéphane Laurent
When I played with OpenGL in Haskell (like here and here), I was disappointed to not find a Haskell package providing nice color palettes.
Then I did my own functions to generate some color palettes. I took the palettes provided by the viridisLite R package and I did a function similar to the R function colorRampPalette, which interpolates colors.
The viridis color maps and the colorRampPalette function
Five color scales (palettes) are defined in the R package viridisLite: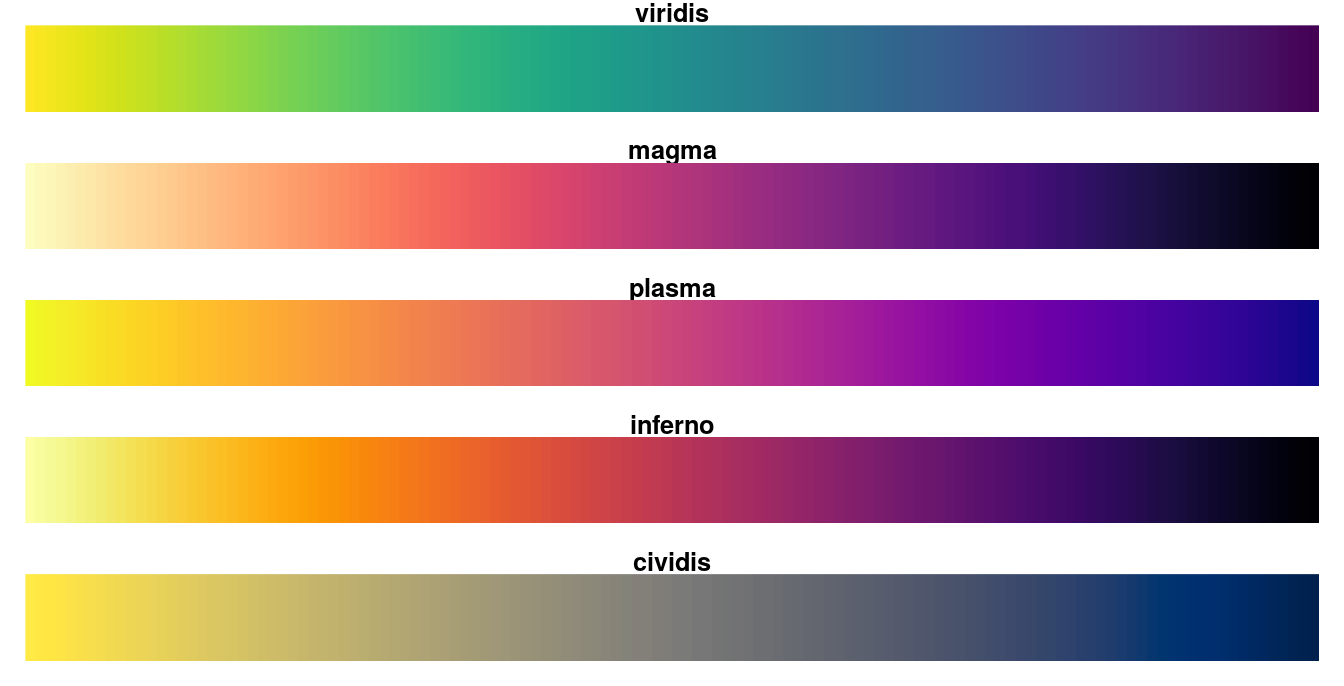 See the documentation for more information about these colors.
The RGB values of these colors are given in the Haskell lists (of type Palette = [[Double]]) at the end of this post.
Furthermore, the R function colorRampPalette allows to interpolate a set of given colors to create a new color palette.
The purpose of this article is to provide an analogous of the colorRampPalette function in Haskell. We will use the modules Numeric.Tools.Interpolation and Numeric.Tools.Mesh of the numeric-tools package.
The colorRamp function
Here is the Haskell function colorRamp. It takes as argument a palette name (among the five viridis palettes), an integer n, and it returns a palette of length n.
For example, say you want four colors based on the magma palette. Then do:
This is a new palette, given as the RGB values of four colors. The first one and the last one are the same as the first one and the last one of the magma palette. The two other ones are obtained by interpolation.
Note that you can give an integer n greater than the length of the base palette.
Usage for OpenGL
Here we provide the function colorRamp', which has the same purpose as colorRamp but it returns a list of Color4 GLfloat, for usage with the OpenGL package.
Examples
Below are two 3D pictures I did with the Haskell package OpenGL, with the help of colorRamp'. Observe that the second one is an animation: the colors rotate.
The five viridis color scales